Lili Viola
Lili has been a Pilates teacher for the past 15 years. She holds two certifications, her first one through Stott Pilates, and the second one through the award winning re:AB Authentic Pilates Teacher Training Program in New York City under the tutelage of 2nd Generation Teacher Brooke Siler. Lili is a 3rd Generation Teacher through the Romana Kryzanowska lineage. Lili continues to take private lessons from, and participate in workshops with, some of the best teachers in the world, incuding 1st generation Master Teacher Jay Grimes, who studied directly under Joseph Pilates, 2nd generation teachers Peter Fiasca, David Freeman, Chris Robinson, Sean Gallagher, Sam Cotrone and Benjamin Degenhardt.

Lili is a wife, and mom to 3 kids and 1 dog.

Abby Gibbons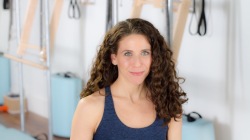 Abby has been teaching the Pilates method for over ten years. A former dancer, Abby began her Pilates teacher training in 2004 through Power Pilates in New York City under the tutelage of 2nd generation teachers Bob Liekens, and Susan Moran, and received her certification in 2005.
In 2014 Abby completed her 2nd certification through USPA (United States Pilates Association) under the direction of 2nd Generation Teacher Brett Howard. Abby is a 3rd Generation Authentic Pilates Teacher.
Abby enjoys being creative with her lessons, while challenging her clients to push themselves. In addition to her love of Pilates, Abby is also pursuing a career as a make-up artist.
Stephanie Schreiber

Stephanie's background in musical theater led her to New York City where she discovered Pilates. She completed her teacher training and received her certification through Romana's Pilates at True Pilates NY in 2010. Her teacher, Sari Mejia Santo, is the daughter of Romana Kryzanowska, a 1st generation teacher taught directly by Joseph Pilates. A 3rd generation teacher, Stephanie has participated in continuing education workshops with many 2nd generation teachers including Cynthia Lochard, Jerome Weinberg, Anthony Rabara, Kathi Ross-Nash, Peter Fiasca, Sean Gallagher, and Benjamin Degenhardt.

Stephanie is a great motivator, and brings plenty of enthusiasm and energy to her classes.

Teresa Frustaci
Hailing from Italy, Teresa was introduced to Pilates in Milan and quickly fell in love with the method. A former cardiac nurse, Teresa knows the human body very well and appreciates how Pilates restores one to full health and mobility. In 2013 Teresa traveled to New York City to pursue her teacher training through Romana's Pilates at True Pilates NY. She moved to Toronto in April 2015 and joined our studio.
Clients love Teresa's energy and hands-on corrections and cues. Teresa is a 3rd Generation Authentic Pilates Teacher.
Kate Dotsikas
A former National Ballet of Canada student, Kate found Pilates to be complementary to her dance experience in building strength and body awareness. Kate is pursuing health studies at U of T as well as her teacher training certification through Authentic Pilates Canada under the tutelage of Cara Hazelton and 2nd Generation Teacher Sean Gallagher of New York Pilates. Kate believes that taking care of our bodies is key to leading a full and healthy life. She loves Pilates because it has taught her how to stretch and refine the capabilities of her own body so that she can move well throughout her life. By both teaching Pilates and studying health policy, Kate hopes to promote wellness, especially through movement.