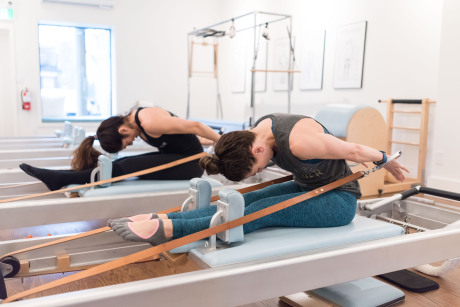 Our System

Pilates is a whole-body workout that unifies the body, mind, and spirit. It strengthens muscles, stabilizes joints, increases flexibility, improves endurance, corrects imbalances, challenges memory, and releases tension.

Pilates is done on mats and on apparatus. At Lili Viola Pilates you will be able to experience all of the types of workouts created by Joseph Pilates to achieve a balanced body. Whether you choose to work one on one with a teacher, or join a group class, you will learn proper movement mechanics and progress from foundational level exercises to core and advanced level workouts at your own pace.




The Mat
Joseph Pilates designed a series of 34 movements to be done on mats. When these movements are done in order, with precision and control, the body is restored to a balanced and relaxed state.




The Apparatus
When more is needed to correct imbalances, or simply to achieve greater physical fitness, our complete selection of apparatus fits the bill. Whatever your goals, we have an "app" for that! Whether it be flatter abs, a more flexible back, stronger arms, tighter buns, better balance, or relief from pain, we are equipped to help you!


Our Complete Selection of Apparatus

Reformer
Cadillac
Tower/Wall Unit
High/Electric Chair
Wunda Chair
Arm/Baby Chair
Ladder Barrel
Spine Corrector
Small Barrel
Guillotine
Pedi-Pull
Airplane Board
Neck Stretcher
Foot Corrector
Toe Corrector
Sand Bags
Push-Up Devices
Magic Circles