Lili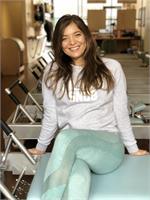 Lili has been a Pilates teacher for the past 15 years. Her first certification was through Stott Pilates, a contemporary derivative of the traditional system. In 2013 she was introduced to Classical Pilates and instantly felt the difference. She spent the next 18 months apprenticing under 2nd Generation Teacher, and best-selling author, Brooke Siler at her award-winning studio, re:AB Pilates, in NYC. In the spring of 2014 Lili became a 3rd Generation Certified Authentic Pilates Teacher. She also completed a 9-month intensive program with 2nd Generation Teacher Chris Robinson at his studio S6 Fitness in San Diego, CA. Lili continues to deepen her understanding of the work through lessons and workshops with some of the industry's most renown teachers, among these: Peter Fiasca, Sean Gallagher, Sam Cotrone, Benjamin Degenhardt, Saul Choza, and 1st Generation Teacher Jay Grimes, who studied under Joseph Pilates himself.
At the time Lili opened her studio in January 2014, it was the only studio in Toronto teaching Classical Pilates on Gratz apparatus. In June 2015 the studio moved to its current location to gain more space, and in September 2016 the studio expanded to occupy the full building, spanning 3 floors. Lili is in high demand, and even Hollywood celebrities have sought her out while filming in Toronto.
When not at the studio, Lili enjoys spending time with her husband, three kids, and dog. She loves to travel and experience the great outdoors.
Lili instructs the following:
A very challenging workout on the Reformer that introduces balancing exercises coupled with strength and flexibility training.




This class teaches the original 34 exercises created by Joseph Pilates. It may also throw in some Romana Kryzanowska variations. The pace is fast. Control and concentration are prerequisites to ensure proper form and safety.




What are the bestsellers in the wellness and health genres? How do you know which book to pick up, and which trends are the best? We are diving head first into piles of books to help you separate fact from fiction and make choices that will empower you to live your healthiest most successful lives! Join us as we explore the topics of wellness and health, one book at a time.

Our first book is Genius Foods by Max Lugavere. This is a fun, easy-to-read, informative book that does not preach at the reader, but informs and inspires in simple every day language.

Pick up your copy of the book at the front desk and read it by Wednesday November 7, to join us at 7 pm to discuss the book and compare notes!