Siobhan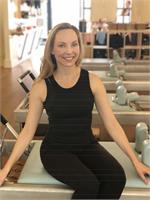 Siobhan is a professionally trained ballet dancer who graduated from Canada's National Ballet School and was first introduced to Pilates while a boarding student there. Siobhan danced and trained around the world until her dance career was cut short by a hip injury.
Siobhan is presently the owner and director of the York School of Dance established in 2001, where she also teaches children in the Lawrence Park Community classical ballet.
Siobhan is passionate about passing on, not only a technical dance foundation to her students, but also a joy within the movement itself.
Siobhan is currently completing her Classical Pilates Teacher Training program at Lili Viola Pilates under the guidance of second generation teacher Chris Robinson and third generation teacher Lili Viola. Her time as a dancer formed a strong mind body foundation which translates well to her current path within the Joseph Pilates method. Siobhan hopes her students take away from her classes an increased confidence to move in harmony with their bodies, and that they continue to build a strong core and body connection.
Siobhan is thrilled to be a part of Team LVP and work at such a vibrant studio in the neighbourhood, where she lives with her husband and two teenage children.
Siobhan instructs the following:
Once you have mastered the Reformer 1 and Tower 1 classes, you are ready to kick it up and do a faster paced workout incorporating the entire system: Reformer, Towers, Mat, Barrels, Pedi Pole and more. This is a full-body workout that takes the foundational moves and challenges you to work them to goal.




Warm up on the mat then work your core body, arms and legs with the springs on the Wall Unit Tower. Learn proper techniques for lengthening the spine and releasing tension from joints while strengthening your muscles and increasing flexibility. Safe for beginners who do not have any injuries or conditions that preclude them from regular exercise.




A strong foundation is key to getting the most out of your Pilates practice. Begin with the Reformer and allow it to teach you how to move your body with grace and efficiency, while improving your posture. Safe for beginners who do not have any injuries or conditions that preclude them from regular exercise.