Jonathan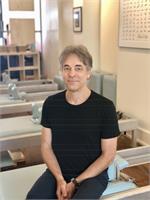 Jonathan is currently in our teacher-training program and is enthusiastic to begin his teaching career in classical pilates at our studio.
Jonathan is a professional artist whose work is available at the AGO Sales and Rental Gallery. He spent many years training in karate-do under Sensei Burt Konzak at the Toronto Academy of Karate and Fitness.
Through Karate-Do Jonathan has taught many people of all ages including a women's self defense class at the University of Toronto Athletic Centre.
Jonathan instructs the following:
Continue to learn and build upon the mat sequence of exercises. At this level your body will be lead through many more planes of movement, challenging flexibility and stability, and deepening the core body connection. The spine will move through flexion, extension, side bending and twisting movements. Ensure you have conditioned for this class with Mat 1 first.




Follows the intermediate level order of exercises on the Reformer. Includes some inversions, and lots of balancing exercises either standing or holding planks on the moving spring-loaded carriage. This is a tough class and is open to students who have mastered Level 1 classes including Reformer 1, Tower 1 and Circuit 1. Some clients may benefit from private lessons to progress from Level 1 to this more challenging level.




This class will lead you through the foundational mat exercises in Pilates to build a strong and connected core. Learn how to hold your head up high, keep a straight posture, strengthen your girdle to support your back, and get rid of stiffness that can lead to pain. Safe for beginners who do not have any injuries or conditions that preclude them from regular exercise.