Jonathan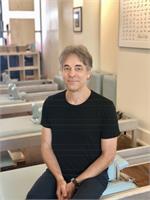 Jonathan is currently in our teacher-training program and is enthusiastic to begin his teaching career in classical pilates at our studio.
Jonathan is a professional artist whose work is available at the AGO Sales and Rental Gallery. He spent many years training in karate-do under Sensei Burt Konzak at the Toronto Academy of Karate and Fitness.
Through Karate-Do Jonathan has taught many people of all ages including a women's self defense class at the University of Toronto Athletic Centre.
Jonathan instructs the following:
A challenging 45-minute workout that teaches you the basic and intermediate mat exercises in the Pilates system. Provides a strong foundation for the apparatus classes and improves posture.




Learn the basic exercises on the Reformer, an apparatus outfitted with a moving carriage loaded with springs for strength and flexibility training.




The Wall Unit Tower is loaded with arm and leg springs, and a couple of bars that assist with spinal mobility. This class will target abs, glutes, hips, shoulders, and back.