Lisa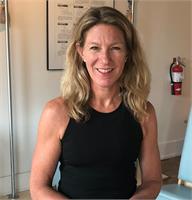 Lisa is a skilled relationship manager and public speaker. After a successful career as an Account Executive for Fortune 500 companies she followed her passion for Pilates, health and wellness and nine years ago started her own fitness business, Positive Transformations. She is passionate about helping her client's lead proactive healthy happy lives. She helps her clients make Positive Transformations through personalized functional fitness, boot camps and fitness classes, Pilates instruction, balance training, transformational coaching and consulting to define the steps they need to take in order to reach the heights and happiness they want to achieve. She is Stott Pilates trained in Mat Pilates and in Special Populations and Rehabilitation. She is a certified Personal Trainer with the Canadian Fitness Professionals and certified as an Older Adult Specialist. She is presently completing her Classical Pilates Certification with Lili Viola Pilates.
Lisa is a skilled communicator and coach who trained with the Coaches Training Institute. She completed the University of Toronto, Rotman School of Management, Women in Business Initiative Program. Her speaking engagements include presentations to private schools, corporate boards, banks, financial advisors and their clients and retirement communities.
Lisa is a Board Director of the Beaumaris Yacht Club and serves as Secretary of the Beaumaris Land Company. She has served as President and is currently Treasurer of the Greenwood College School Parents Association.
Lisa instructs the following:
Follows the intermediate level order of exercises on the Reformer. Includes some inversions, and lots of balancing exercises either standing or holding planks on the moving spring-loaded carriage. This is a tough class and is open to students who have mastered Level 1 classes including Reformer 1, Tower 1 and Circuit 1. Some clients may benefit from private lessons to progress from Level 1 to this more challenging level.




For clients transitioning from level 1 into level 2. This class will introduce harder exercises and challenge you to push yourself farther. Mastery of Level 1 classes is a must.




Continue to learn and build upon the mat sequence of exercises. At this level your body will be lead through many more planes of movement, challenging flexibility and stability, and deepening the core body connection. The spine will move through flexion, extension, side bending and twisting movements. Ensure you have conditioned for this class with Mat 1 first.




Once you have mastered the Reformer 1 and Tower 1 classes, you are ready to kick it up and do a faster paced workout incorporating the entire system: Reformer, Towers, Mat, Barrels, Pedi Pole and more. This is a full-body workout that takes the foundational moves and challenges you to work them to goal.




A strong foundation is key to getting the most out of your Pilates practice. Begin with the Reformer and allow it to teach you how to move your body with grace and efficiency, while improving your posture. Safe for beginners who do not have any injuries or conditions that preclude them from regular exercise.




Following a vigorous and fast paced mat warmup, continue to build upon the sequence of exercises taught in Tower 1. New exercises include inversions, more leg spring exercises, and greater upper body involvement. A full-body workout that will require mind-body connection, precision and fluidity.