Neetu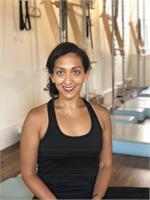 Neetu's love for Classical Pilates began as a university student in Ottawa trying to reach for those long lean muscles with Mari Winsor and her groundbreakings DVDs. Neetu's drive for Pilates to become a major part of her life started in 2008 when she spent a year in Virginia and trained with Lilia Browning, a Romana Certified Teacher 3 times a week. Classical Pilates opened up a world of focused exercise which gave her the results she was looking for and strength she has always craved. After having her second child in 2015, Lili Viola re-ignited Neetu's love for Pilates and helped her get into the best shape of her life.
Helping people is Neetu's calling. Sharing the Pilates Method to help people achieve their goals puts a smile on her face. Neetu's wonderful husband Adam and her two little boys, Milo & Kai keep that smile going.
Neetu instructs the following:
For clients transitioning from level 1 into level 2. This class will introduce harder exercises and challenge you to push yourself farther. Mastery of Level 1 classes is a must.




A strong foundation is key to getting the most out of your Pilates practice. Begin with the Reformer and allow it to teach you how to move your body with grace and efficiency, while improving your posture. Safe for beginners who do not have any injuries or conditions that preclude them from regular exercise.




Warm up on the mat then work your core body, arms and legs with the springs on the Wall Unit Tower. Learn proper techniques for lengthening the spine and releasing tension from joints while strengthening your muscles and increasing flexibility. Safe for beginners who do not have any injuries or conditions that preclude them from regular exercise.




Follows the intermediate level order of exercises on the Reformer. Includes some inversions, and lots of balancing exercises either standing or holding planks on the moving spring-loaded carriage. This is a tough class and is open to students who have mastered Level 1 classes including Reformer 1, Tower 1 and Circuit 1. Some clients may benefit from private lessons to progress from Level 1 to this more challenging level.