Neetu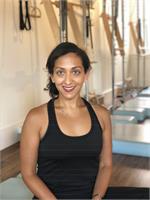 Neetu's love for Classical Pilates began as a university student in Ottawa trying to reach for those long lean muscles with Mari Winsor and her groundbreakings DVDs. Neetu's drive for Pilates to become a major part of her life started in 2008 when she spent a year in Virginia and trained with Lilia Browning, a Romana Certified Teacher 3 times a week. Classical Pilates opened up a world of focused exercise which gave her the results she was looking for and strength she has always craved. After having her second child in 2015, Lili Viola re-ignited Neetu's love for Pilates and helped her get into the best shape of her life.
Helping people is Neetu's calling. Sharing the Pilates Method to help people achieve their goals puts a smile on her face. Neetu's wonderful husband Adam and her two little boys, Milo & Kai keep that smile going.
Neetu instructs the following:
A very challenging workout on the Reformer that introduces balancing exercises coupled with strength and flexibility training.




Learn the basic exercises on the Reformer, an apparatus outfitted with a moving carriage loaded with springs for strength and flexibility training.




The Wall Unit Tower is loaded with arm and leg springs, and a couple of bars that assist with spinal mobility. This class will target abs, glutes, hips, shoulders, and back.