Leah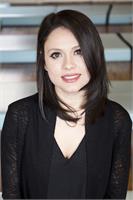 Dr. Leah Barbaro graduated from the Canadian Memorial Chiropractic College. She completed an internship at St. Michael's Family Health Team, CMCC and an externship done at Total Rehab Clinic in Ajax. She also has an Honours Bachelor of Science degree in Kinesiology from McMaster University, where she was a sports therapist. There she worked with a variety of athletes including the Women's Lacrosse, Men's Rugby and Men's Football Teams and eventually headed up the sports therapy program.
Leah is certified in Contemporary Neurofunctional Medical Acupuncture through McMaster University, Standard First Aid, and Mental Health First Aid. She has also completed Integrated Therapeutics and Integrated Patterning courses through the Integrated Seminar Series, as well as Exercise Muscle Testing through SWIS.
Dr. Barbaro has a variety of interests including treatment of sport, work and overuse injuries. Her experience has included treating headaches, back pain, neck pain, TMJ dysfunction and many other neuro-musculoskeletal disorders. Leah believes in a collaborative multi-disciplinary approach to patient centred care. She uses a diverse clinical approach to treatment which combines traditional chiropractic care with acupuncture, cupping, athletic taping, instrumented assisted soft tissue therapy, myofascial release techniques and exercise therapy. Patient education is also a key component to her treatment, empowering patients to lead healthy active lives.
Leah is currently not instructing any classes.