Yulia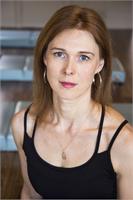 Yulia's yoga practice is designed to give you a healthy mind and a flexible body. In her classes she focuses on mindfulness, body awareness, balance and strength.
Yulia was born in Russia, came to Canada after University and fell in love with yoga. She was attracted to yoga as a way to help her settle into her new life and her new home. She practiced different styles of yoga through the years and really enjoyed them.
In 2009 she was diagnosed with Rheumatoid Arthritis, she searched for ways to try and cope with the disease and found that yoga and mindfulness, are extremely beneficial to help manage the condition. At this point she started her journey of learning more about yoga and mindfulness. She took Toronto based Mindfulness courses and in 2012 enrolled in a two year intensive teacher training program at Esther Myers studio in Toronto.
She began to teach as she wanted to share these practices to help people and to make them feel better. Her approach is that yoga should be practiced with the understanding of every individuals anatomy and respect to their natural body alignment.
Yulia instructs the following:



The perfect balance for mind, body and spirit.

Half of the class is Yin Yoga which focuses on flexibility, mindfulness and softness. Yin aspects of yoga focus on the deeper, denser tissues of the body - the joints, bones and connective tissues. We hold poses for longer periods, releasing into them with mindful awareness of the sensations and thoughts which arise.

The other half of the class is Yang Yoga which focuses on strength, stamina and balance. Yang yoga is more of an active, dynamic flow of postures where the movements and breath are rhythmically connected. The poses and sequences will focus on the fitness of the muscles, skin, organs and blood.