Stephanie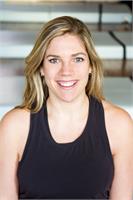 Originally from Ontario, Stephanie has been practicing Pilates for many years. She has recently moved back to Toronto from New York City to attend Chiropractic school. With her background in dance and kinesiology she has integrated her passion for movement into her Pilates teaching. She sees Pilates as a way to build a strong foundation to excel at any movement and has used Pilates herself to prevent and recover from injuries. With her Classical Pilates training, Stephanie uses the system of Pilates with her clients to adapt to each unique body to ensure a safe and effective workout. Stephanie hopes her sessions are fun, safe, and work toward individual goals. She feels accomplished when her clients leave feeling sweaty!
Stephanie has a BA degree in Kinesiology and a Bachelor of Science in Nursing from the University of Western Ontario; she is a graduate of Alycea Ungaro's Real Pilates Teacher Training in NYC.
Stephanie instructs the following:
For strong clients who are very familiar with Level 2 clases on the Reformer and Tower and who are able to do Circuit 1 and 1-2 with ease. This fast paced and tough workout will take you through the entire system to an intermediate level.




The Wall Unit Tower is loaded with arm and leg springs, and a couple of bars that assist with spinal mobility. This class will target abs, glutes, hips, shoulders, and back.




Once you have mastered the Reformer 1 and Tower 1 classes, you are ready to kick it up and do a faster paced workout incorporating the entire system: Reformer, Towers, Mat, Barrels, Pedi Pole and more. This is a full-body workout that takes the foundational moves and challenges you to work them to goal.




Learn the basic exercises on the Reformer, an apparatus outfitted with a moving carriage loaded with springs for strength and flexibility training.




Many new exercises are added on at this level. Inversions are introduced, and greater mobility in the spine, as well as the other joints, is the focus.




A challenging class meant for those transitioning from Basic to Intermediate Reformer and Tower.




Following a vigorous and fast paced mat warmup, continue to build upon the sequence of exercises taught in Tower 1. New exercises include inversions, more leg spring exercises, and greater upper body involvement. A full-body workout that will require mind-body connection, precision and fluidity.




For clients transitioning from level 1 into level 2. This class will introduce harder exercises and challenge you to push yourself farther. Mastery of Level 1 classes is a must.