Stephanie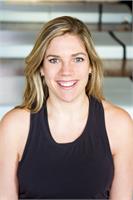 Originally from Ontario, Stephanie has been practicing Pilates for many years. She has recently moved back from New York City to attend Chiropractic school. With her background in dance and kinesiology she has integrated her passion for movement into her Pilates teaching. She sees Pilates as a way to build a strong foundation to excel at any movement and has used Pilates herself to prevent and recover from injuries. With her Classical Pilates training, Stephanie uses the system of Pilates with her clients to adapt to each unique body to ensure a safe and effective workout. Stephanie hopes her sessions are fun, safe, and work toward individual goals. She feels accomplished when her clients leave feeling sweaty!
Stephanie has a BA degree in Kinesiology and Bachelor of Science in Nursing from the University of Western Ontario and has finished a 600 hour Classical Pilates teacher training program with Real Pilates in New York City.
Stephanie instructs the following:
Learn the beginner sequence of exercises on the Reformer. A full body workout with emphasis on core stability and strength.




Beginners welcome! Slow enough to learn to do well, but challenging enough to feel the burn.




This class will provide 13-17 year olds the opportunity to get pilates into their body at a young age! Ideal for teen dancers, runners, and athletes of all kinds (as well as for any teens wanting to add some movement into their lives). Instil good posture and alignment in your teen at a young age, and see them develop core strength and physical flexibility that will see them succeed in all athletic pursuits.




This class introduces more complex exercises, and moves at a vigorous pace.