Juliet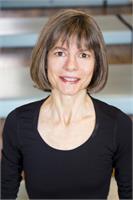 Juliet came late to yoga, and she appreciates it all the more for that! From her training and the experience of her own body, she understands the special needs of mid-life, in addition to being able to offer classes that challenge and inspire those of all ages and body types. Her sense of humour and love of teaching have brought ease and fun to her classes for the last 11 years.
Her Hatha and Kripalu Yoga classes are accessible but challenging. Her training in Mindfulness has brought her benefits she's eager to share, and she especially enjoys helping beginners find joy and competence in their own minds and bodies.
Juliet is currently not instructing any classes.