Julia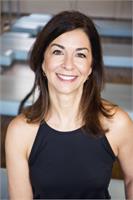 Julia has been in the fitness industry for 20 years. In 2000 she became a certified Aquafit instructor . With a wealth of experience in the specialized areas of Water Running, Aquatic personal training, Aquatic post-rehab (joint replacements, arthritic conditions and general injuries). Julia is currently completing her certification requirements in our teacher training program. She is apprenticing under Cara Hazelton of Authentic Pilates Canada, and Sean Gallgher of The New York Pilates Studio. Julia feels that Classicsl Pilates has something to offer everyBODY.
Julia instructs the following:
Learn the beginner sequence of exercises on the Reformer. A full body workout with emphasis on core stability and strength.




A dynamic and flowing workout that will challenge you from head to toe. Mastery of the basic level is a prerequisite.




A vigorous hour-long core workout that introduces you to the foundational movements of Joe Pilates' entire system of contrology. Takes you through both the foundational reformer and mat sequences with some additional apparatus work.




An hour-long workout that builds upon your knowledge of the Pilates system and incorporates more advanced exercises at a faster pace on the reformer and mat for a challenging full-body workout.