Abby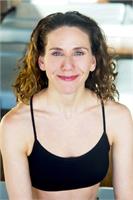 Abby has been teaching the Pilates method for over ten years. A former dancer, Abby began her Pilates teacher training in 2004 through Power Pilates in New York City under the tutelage of 2nd generation teachers Bob Liekens, and Susan Moran, and received her certification in 2005. In 2014, she completed her 2nd certification through the United States Pilates Association under the direction of 2nd Generation Teacher Brett Howard. Abby is a 3rd Generation Authentic Pilates Teacher.
Abby enjoys being creative with her lessons while challenging her clients to push themselves. Outside her love of Pilates, Abby is also pursuing a career as a make-up artist.
Abby instructs the following:
This class introduces more complex exercises, and moves at a vigorous pace.




A dynamic and flowing workout that will challenge you from head to toe. Mastery of the basic level is a prerequisite.




An hour-long workout that builds upon your knowledge of the Pilates system and incorporates more advanced exercises at a faster pace on the reformer and mat for a challenging full-body workout.




Learn the beginner sequence of exercises on the Reformer. A full body workout with emphasis on core stability and strength.