Abby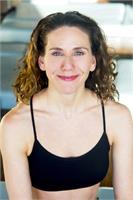 Abby has been teaching the Pilates method for over ten years. A former dancer, Abby began her Pilates teacher training in 2004 through Power Pilates in New York City under the tutelage of 2nd generation teachers Bob Liekens, and Susan Moran, and received her certification in 2005. In 2014, she completed her 2nd certification through the United States Pilates Association under the direction of 2nd Generation Teacher Brett Howard. Abby also completed a 9-month intensive with 2nd Generation Teacher Chris Robinson at S6 Fitness in San Diego, CA. Abby is a 3rd Generation Authentic Pilates Teacher.
Abby enjoys being creative with her lessons while challenging her clients to do and be their best. Outside her love of Pilates, Abby enjoys, fashion and make-up artistry.
Abby instructs the following:
Many new exercises are added on at this level. Inversions are introduced, and greater mobility in the spine, as well as the other joints, is the focus.




A very challenging workout on the Reformer that introduces balancing exercises coupled with strength and flexibility training.




For strong clients who are very familiar with Level 2 clases on the Reformer and Tower and who are able to do Circuit 1 and 1-2 with ease. This fast paced and tough workout will take you through the entire system to an intermediate level.




Following a vigorous and fast paced mat warmup, continue to build upon the sequence of exercises taught in Tower 1. New exercises include inversions, more leg spring exercises, and greater upper body involvement. A full-body workout that will require mind-body connection, precision and fluidity.