Tower for Men
This class is taught by: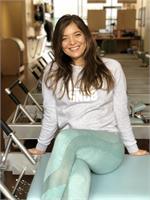 Lili has been a Pilates teacher for the past 15 years. Her first certification was through Stott Pilates, a contemporary derivative of the traditional system. In 2013 she was introduced to Classical Pilates and instantly felt the difference. She spent the next 18 months apprenticing under 2nd Generation Teacher, and best-selling author, Brooke Siler at her award-winning studio, re:AB Pilates, in NYC. In the spring of 2014 Lili became a 3rd Generation Certified Authentic Pilates Teacher. She also completed a 9-month intensive program with 2nd Generation Teacher Chris Robinson at his studio S6 Fitness in San Diego, CA. Lili continues to deepen her understanding of the work through lessons and workshops with some of the industry's most renown teachers, among these: Peter Fiasca, Sean Gallagher, Sam Cotrone, Benjamin Degenhardt, Saul Choza, and 1st Generation Teacher Jay Grimes, who studied under Joseph Pilates himself.
At the time Lili opened her studio in January 2014, it was the only studio in Toronto teaching Classical Pilates on Gratz apparatus. In June 2015 the studio moved to its current location to gain more space, and in September 2016 the studio expanded to occupy the full building, spanning 3 floors. Lili is in high demand, and even Hollywood celebrities have sought her out while filming in Toronto.
When not at the studio, Lili enjoys spending time with her husband, three kids, and dog. She loves to travel and experience the great outdoors.
Howie has been a firefighter for over 13 years, he has been involved in a wide range of athletics and fitness for the majority of his life, from being a player, coach, and trainer. Howie found Lili Viola Pilates in 2016 and noticed that his chronic lower back pain had all but disappeared after a couple of months of Pilates, he's been hooked ever since. He is currently completing his Classical Pilates Teacher Training at Lili Viola Pilates under the watchful eyes of 2nd generation teacher Chris Robinson and 3rd generation teacher Lili Viola.
When not firefighting or at Lili Viola Pilates, Howie can be found golfing or surfing.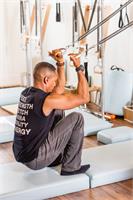 Traditionally Joseph Pilates taught men a specific set of exercises just for them. This class teaches an intermediate to advanced level sequence of exercises and includes many of the men-only exercises Joseph designed. Men's upper bodies are typically stronger and more built and the legs and spine are less flexible. This workout takes into account the male physique and its unique needs. It is strongly recommended that men wishing to attend this class begin with foundational level classes and build up their strength for this workout.
Upcoming classes: