Circuit 2
This class is taught by:
Originally from Ontario, Stephanie has been practicing Pilates for many years. She has recently moved back to Toronto from New York City to attend Chiropractic school. With her background in dance and kinesiology she has integrated her passion for movement into her Pilates teaching. She sees Pilates as a way to build a strong foundation to excel at any movement and has used Pilates herself to prevent and recover from injuries. With her Classical Pilates training, Stephanie uses the system of Pilates with her clients to adapt to each unique body to ensure a safe and effective workout. Stephanie hopes her sessions are fun, safe, and work toward individual goals. She feels accomplished when her clients leave feeling sweaty!
Stephanie has a BA degree in Kinesiology and a Bachelor of Science in Nursing from the University of Western Ontario; she is a graduate of Alycea Ungaro's Real Pilates Teacher Training in NYC.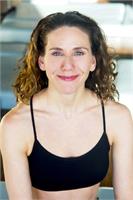 Abby has been teaching the Pilates method for over ten years. A former dancer, Abby began her Pilates teacher training in 2004 through Power Pilates in New York City under the tutelage of 2nd generation teachers Bob Liekens, and Susan Moran, and received her certification in 2005. In 2014, she completed her 2nd certification through the United States Pilates Association under the direction of 2nd Generation Teacher Brett Howard. Abby also completed a 9-month intensive with 2nd Generation Teacher Chris Robinson at S6 Fitness in San Diego, CA. Abby is a 3rd Generation Authentic Pilates Teacher.
Abby enjoys being creative with her lessons while challenging her clients to do and be their best. Outside her love of Pilates, Abby enjoys, fashion and make-up artistry.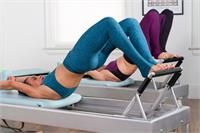 For strong clients who are very familiar with Level 2 clases on the Reformer and Tower and who are able to do Circuit 1 and 1-2 with ease. This fast paced and tough workout will take you through the entire system to an intermediate level.
Upcoming classes: