Ashtanga
This class is taught by: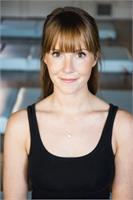 Shareen was introduced to yoga in 1998 and since then it has been a transformative and informative force in her life. With honours degrees in philosophy and psychology from the University of Toronto, and great interest in ethics, environment, religion, wellness and Sanskrit, she offers to her yoga students much more than a physical challenge. Shareen recognizes that yoga practice involves much more than asana (physical poses) and passionately encourages students to explore and embrace the other 7 limbs of yoga in their practice and in their lives. Coming from a background of dance training, classical Pilates and competitive swimming, her style of teaching is a balanced fusion of creative sequencing, enjoyment of movement, anatomical correctness and athletic precision.
This class follows the traditional sequence of Ashtanga postures including sun salutations, standing postures and balances, seated postures and inversions. This challenging series of postures builds strength, endurance and flexibility while calming the mind and detoxifying the body through sweating and deep mindful breathing.
Upcoming classes: