Ashtanga
This class is taught by: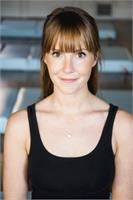 Shareen is a fully certified Pilates teacher trained at the beginner, intermediate and advanced levels on the mat, reformer, cadillac, stability chair, barrels and small props. She has additional training in injuries and special populations.
Shareen is also a renowned yoga teacher and yoga teacher trainer. She has led retreats and Yoga Teacher Training programs both locally and internationally. She travels regularly to India to study yoga asana, pranayama, philosophy, sanskrit and chanting with the world's best teachers and gurus.
She was a former dancer and gymnast, as well as a varsity competitive swimmer at the University of Toronto. She has copious and various experience in the world of fitness and athletics including over 18 years as a competitive swim coach (NCCP Level 3), swimming instructor, lifeguard and aquafitness instructor.
Her approach to teaching combines all of her areas of expertise. She shares with her students a genuine enjoyment of breath and movement, mind-body connection and always encourages safe and correct technique and athletic precision.
This class follows the traditional sequence of Ashtanga postures including sun salutations, standing postures and balances, seated postures and inversions. This challenging series of postures builds strength, endurance and flexibility while calming the mind and detoxifying the body through sweating and deep mindful breathing.
Upcoming classes: