Men's Tower
This class is taught by: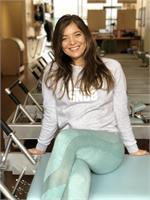 Lili has been a Pilates teacher for the past 15 years. She holds two certifications, her first one through Stott Pilates, and the second one through the award winning re:AB Authentic Pilates Teacher Training Program in New York City under the tutelage of 2nd Generation Teacher Brooke Siler. Lili is a 3rd Generation Teacher through the Romana Kryzanowska lineage.
Lili continues to take private lessons from, and participate in workshops with, some of the best teachers in the world, incuding 1st generation Master Teacher Jay Grimes, who studied directly under Joseph Pilates, 2nd generation teachers Peter Fiasca, David Freeman, Chris Robinson, Sean Gallagher, Sam Cotrone and Benjamin Degenhardt.
Lili is a wife, and mom to 3 kids and 1 dog.
Just for guys. Stretch tight areas, strengthen your powerhouse, and challenge your upper body. Includes some of Joseph Pilates' Men's Only exercises.
Upcoming classes: